With these pro tips and tricks, you won't just do well in Rimworld, you'll do great.
Most of the time, your first Rimworld colony will die of hunger, catch on fire, or make you mad. Before you can get stable, you have to learn a lot, but once you get over that hill, you can fully explore Rimworld game's heart. Before you spend too much time trying to tame a megasloth, take the time to make sure you can support yourself.
Once you understand the basics, there are a lot of things you can do to make your base run better and avoid problems. You and your colonists will be much happier if you use the zoning tool well and make more complicated defensive setups. Even though life on the Rim is hard, that doesn't mean you can't get used to it.
Undead Revival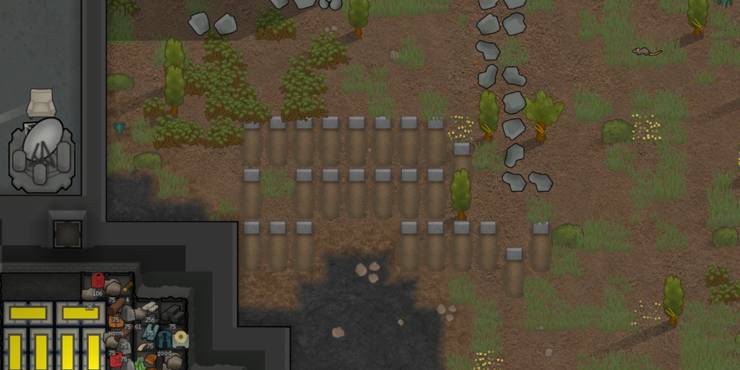 It might seem like the end of the story when a colonist dies, but younger players might not know that there is a way to cheat death. Some tasks or old shrines will give you a resurrector mech serum as a reward. This amazing piece of technology can bring a dead colonist back to life.
As long as a dead body hasn't dried out, it can be made to walk among the living again. Fresher bodies have less side effects when they are resurrected, so you should freeze the body of your best colonist as soon as you can until you get a serum.
Strip Mining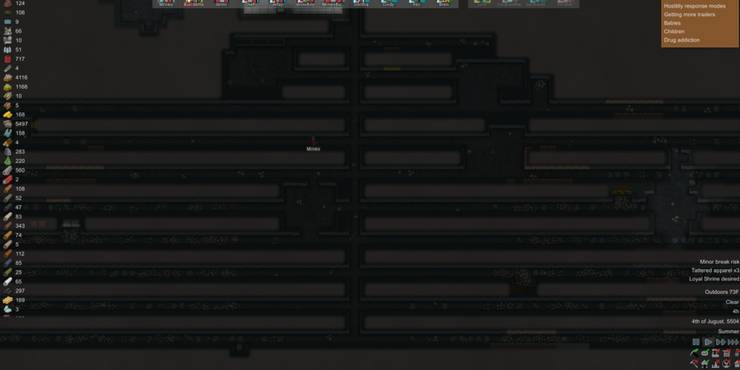 When you crash-land on a planet for the first time, you will see exposed mineral nodes all over the hard parts of the map. In Rimworld game, these nodes will be your main source of steel and parts. But these zones will run out at some point. Strip mining is a great way to use up all the nodes before you look for other sources.
Both the X and Y axes are used to mine long, straight lines into rock layers. This will help you find mineral nodes quickly and without wasting a lot of time.
Customizable Zones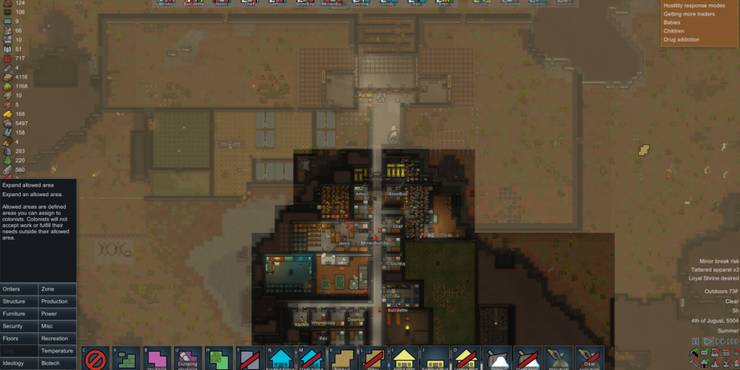 Every time you build something in your group, the "home zone" grows as well. This catch-all place will tell the colonists where to do things like cleaning and putting out fires. Zones are much more useful than just a fancy way to clean up. By making unique zones, you'll be able to do a lot of different things, like take care of animals, control safety, and corral guests who don't behave.
If you're tired of your boomalope bringing bomb hazards into your base, all you have to do is use a custom zone to make certain places inside your base off-limits. Or, even better, build a pen for your explosive friend so that you can get that sweet, sweet chemfuel.
Use A Killbox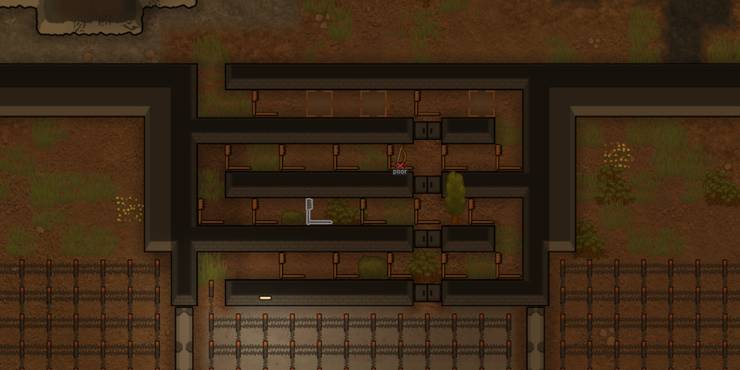 It feels great to have your base set up. Your needs for food and entertainment are met, and everyone has a bed. It's not fun to have your base burn down because you don't have good security methods. Making a "killbox" is a good way to make it easier for enemies to raid your base.
All but one part of your town should be surrounded by a wall. From here, build a set of walls that snake into your base slowly. Set up spike traps at regular intervals and have your last wall grow to make a hallway with barriers to protect it. Since that part of your base doesn't have a door, the enemy AI will be tempted to walk through your traps to get to your base. If an enemy gets past the traps, they will be stuck in the tunnel, where colonists behind the barricade can easily kill them.
Indoor Agriculture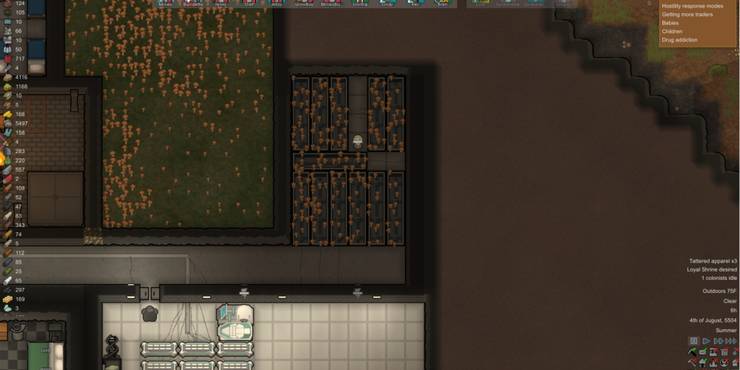 Crops don't have to follow the rules of the seasons. By building a greenhouse or learning about hydroponics, you can grow plants all year long. No longer will indoor plants have to worry about the heat of the sun or the cold of the winter. The rate at which plants grow in hydroponics pots is also very fast. Even though it's easy to grow plants indoors, there is one big problem: sun light. These are needed to grow foods under a roof that don't get enough light from the sun.
The trouble is that these tiny balls of light take a lot of energy to run, almost as much as a whole geothermal generator. If you want to try indoor gardening, you should first think about all of your energy needs.
Use Devilstrand Clothing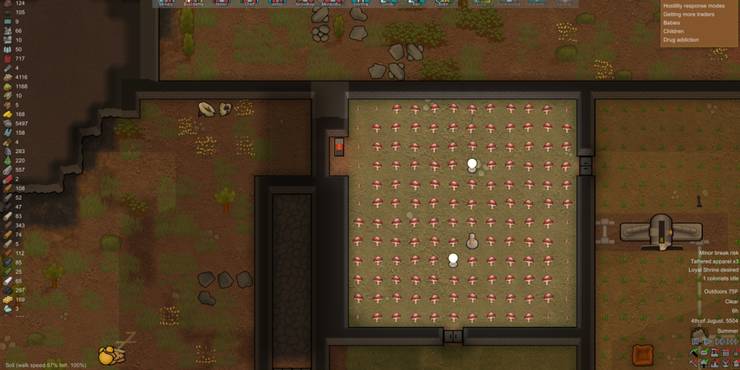 Flak jackets are a good choice for new Rimworld players who want to improve the defense of their colonists. They are a popular form of protection that doesn't cost much to make. Devilstrand dusters are a much better choice, as are clothes in general. After studying the right tech block, you can grow Devilstrand mushrooms, and you won't be sorry.
Devilstrand fabric is very tough, and wearing clothes made from it gives you great protection features. For example, a duster made of this cloth is stronger than flak jackets and doesn't slow down movement. Hyperweave and thrumbofur are stronger than devilstrand, but they are much harder to find.
Day And Night Shifts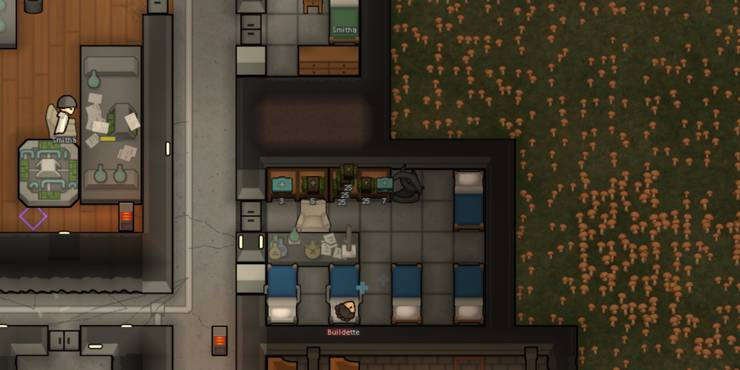 Disasters can happen at any time in Rimworld, and if your doctor is tired during surgery at 3 a.m., their mood change could hurt the patient more than a wound. Each colonist can be told when to work, sleep, and play. If you want to be really crazy, you can make them work for 24 hours, but they will probably pass out before their shift is over.
By setting the schedules of your pawns to alternate, you can make sure that certain jobs work at certain times. For example, if one doctor works during the day and the other at night, someone will always be on call at your hospital. Or, if you don't want to waste time mopping, your house-cleaning pawn can do all the dirty work when everyone is asleep at night.
Organize The Colonist Display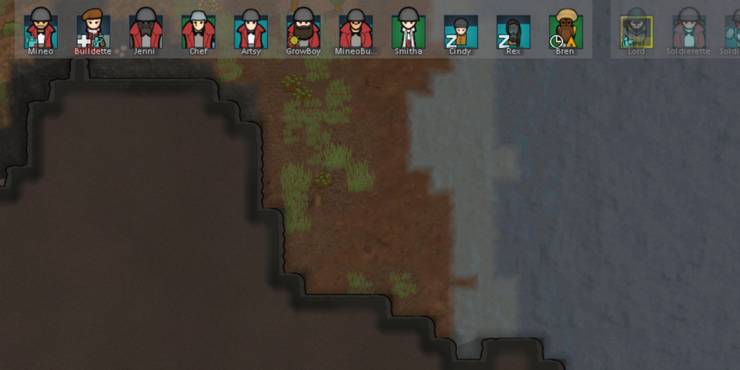 Your pieces will always be shown at the top of your screen. This is a very helpful tool that keeps you from having to look for each one separately on the map. The problem is that when you have more than ten colonists, each with their own skills and strengths, it's hard to read the display bar. You can move colonist images around by right-clicking on them and dragging them.
For example, you can put all of your close-combat colonists on the right and all of your far-combat colonists on the left. Or, you could put your pacifists in one group and your monsters in another.
Stack Wind Turbines And Solar Panels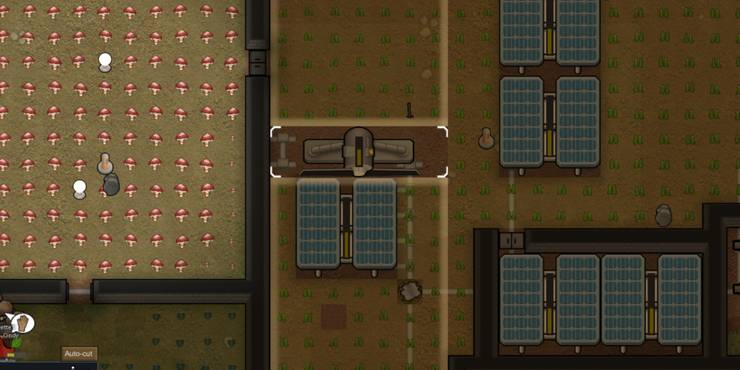 In the explanation of wind turbines, it says that things that get in the way will make them less efficient. This is true, because things like trees and walls will slow down power production a lot if they are in the turbine zone. But many new players don't know that solar panels don't really count as an obstacle. You can put solar panels right next to wind machines and they won't get in the way.
This is great because it saves a lot of room and doesn't need any extra wiring to connect the two power sources. Just make sure to put things close that can put out fires, like firefoam poppers. You don't want the power grid of the whole settlement to catch fire and burn down half of your base.
Remember To Use EMP Weapons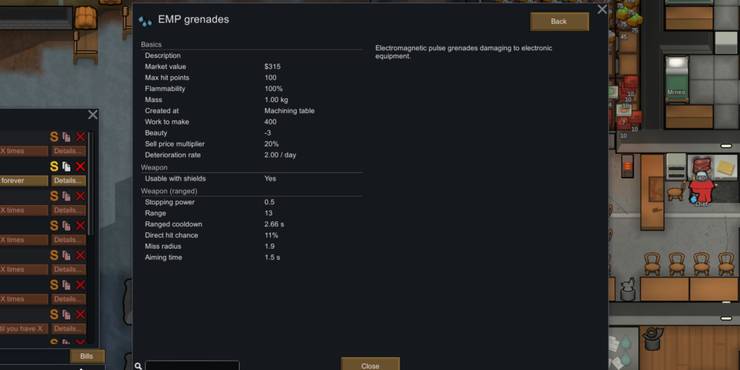 Most of the time, the first raids in Rimworld are pretty easy. Bandits who don't have armor and primitives who only have clubs won't be much of a threat to your town. Raids in the late game are a completely different story. Raiders and mechanoids will bring shield generators to protect themselves from gunshots. If you're not ready, these can hurt you very badly.
EMP weapons have to be used in these scenarios. In the beginning of Flappy Bird game, they aren't very useful. But when they can shut down shields and stop mechanoids, they become much more useful. A well-placed EMP grenade can stop the machines that hunt people totally, leaving them open to attack.