As a diver fisherman, Dave the Diver has to get up close and personal with his game. Here are the best tools he can use.
Dave the Diver is a cute independent game that combines the calm of a fishing game with the chaos of a cooking simulator. During Dave the Diver game, you're in charge of Dave, a poor guy who gets thrown into the sushi business. He is the only worker and does almost everything for the business, like getting goods, serving food, and even hiring new people to work there.
Most of the game takes place in the water, where you gather materials for your sushi restaurant, which opens each night. So, Dave will have to kill and gather fish all the time to feed his hungry customers.
Harpoon: Poison Tip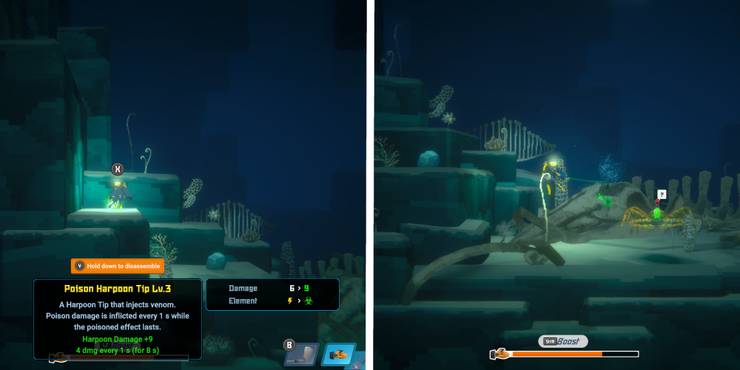 You can find weapons boxes all over the sea floor. Some will have guns, and others will have improvements for your harpoon gun. All of the upgrades for the base harpoon are great finds, since all of the other guns will eventually run out of ammo. On the other hand, the harpoon never runs out of ammunition, so it is a useful tool.
The harpoon can have a number of different tips. The Poison Tip is one of the best tips you can find. This harpoon head will harm the fish it hits and keep doing damage for about five seconds. The damage builds up very quickly, and it's great for killing sharks and other fish with a lot of health.
Hush Dart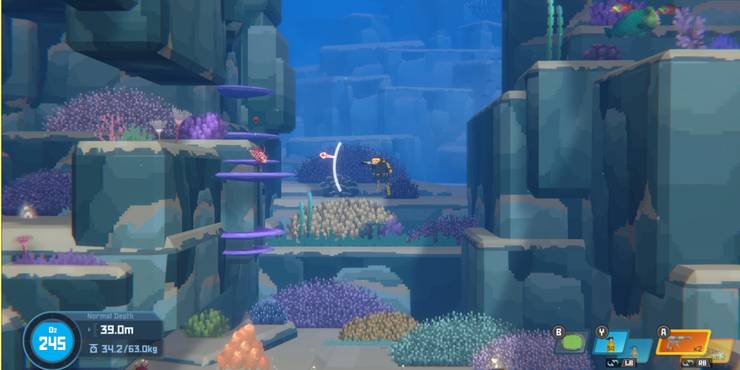 The Hush Dart's ammo pool is very small, but there's a good reason for this. Any fish you shoot with this gun will fall asleep in about three seconds. In games with early access, like this one, the starting gear can be hit or miss. This is a clear winner.
This is strong because it can be used both to attack and to defend. For big animals, it can buy you a few seconds to pop an oxygen tank and give you room to breathe. It will let you catch smaller fish living and get more resources from them as a result.
Grenade Launcher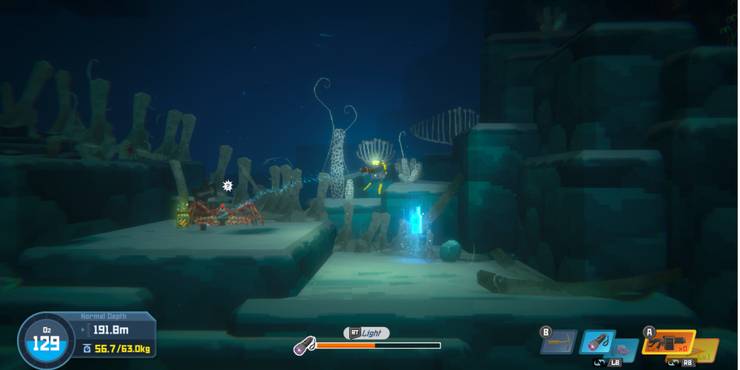 This gun has more raw power than any other gun. As you might expect, this gun shoots a grenade that blows up when it hits a fish or something else in the surroundings.
As you might also expect, the ammo pool for this gun is not very deep. Also, it is hard to use because the grenades fly in a very wide circle when they are fired. To use this tool well, you should aim above your target.
Red Sniper Rifle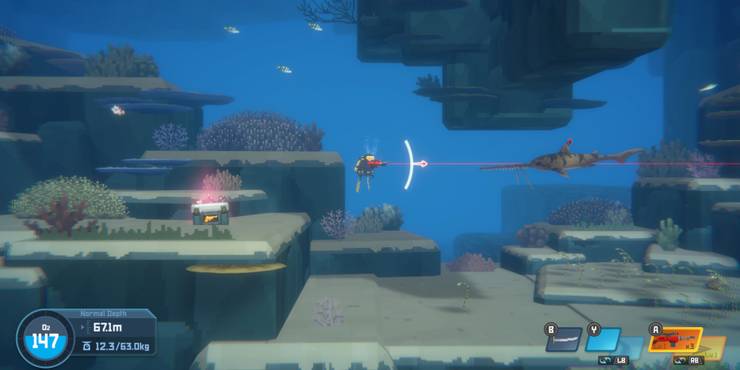 The red sniper gun is a weapon that can't be ignored. It is one of a kind because it can shoot bullets with an endless range. It only shoots in a straight line, and the bullet will go all the way to the edge of the screen.
This gun only has three shots, but each one does a huge amount of damage. If you hit all three targets, you should be able to kill all but the biggest animals. On top of that, the gun shows with a light where the bullet will go, which makes it even easier to use.
Harpoon: Lightning Tip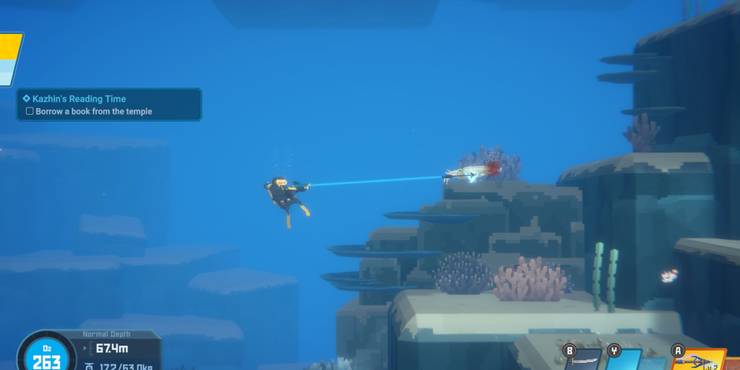 Even though the Lightning Tip for the Harpoon Gun is dangerous to your health, it can be useful in the Blue Hole. This tip gives the harpoon a little more damage and also hurts fish with a shock when it hits them.
But this tip has more shocking effects than just that. When you hit a fish, the lightning will spread to any other fish close. This can be a very helpful tool for catching a lot of small fish at once. Killing groups of dangerous jellyfish that tend to stick together can also be helpful.
Sharp Japanese Sword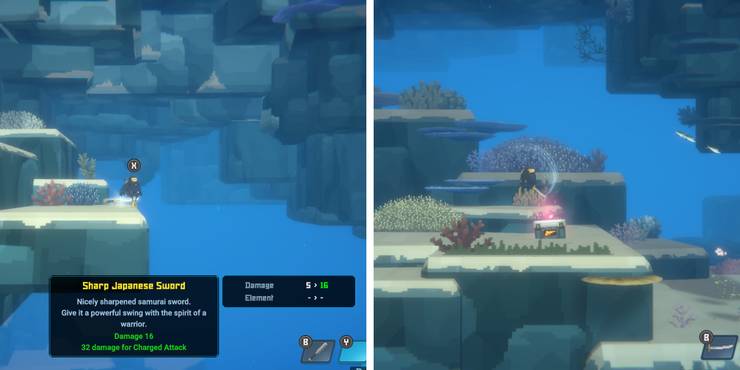 One of the best melee tools in Dave the Diver game is the Sharp Japanese Sword. It does a lot of damage and has a long range. It also has a very short cooldown. All of these things make it one of the melee weapons with the best DPS in Dave the Diver game.
You can find melee weapons in the same crates as guns, so make sure to look around a lot. The long reach of this tool will not only help you catch a lot of fish, but it can also keep big predators away.
Shark Harpoon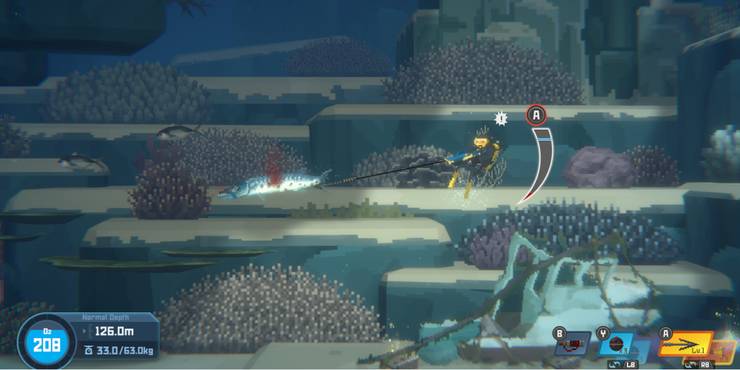 From the first day of your fishing trip, the base Harpoon will be with you. Because of this, it shouldn't come as a surprise that improving the weapon to its highest level will make it more powerful. If you spend time and effort on this tool, it won't let you down.
The last step of upgrading the Harpoon gives it a body that looks like an awesome shark. Even though this last level doesn't let you improve your cooldown, the power is great. It can do up to 24 damage, and if you find tip improvements on your dives, you can improve it even more.
Triple Axel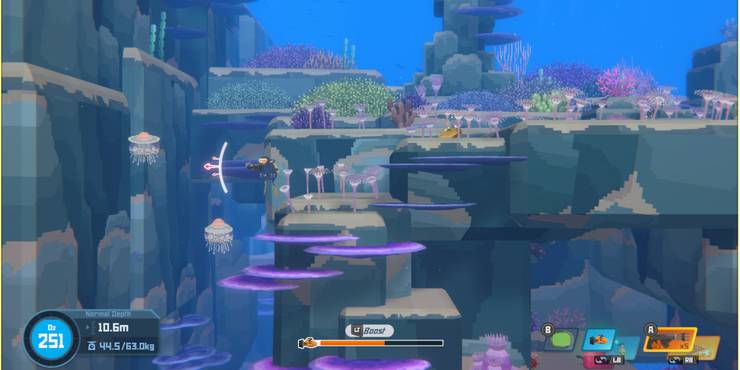 The best way to explain this gun is that it works well. It can be made with very few materials and is easy to improve. It will probably be one of the first guns you can fully upgrade because of this. This weapon is like an underwater shotgun because it shoots three bolts forward in a spread pattern.
When all three bolts hit their mark, this weapon does a lot of damage. But this weapon really shines when it has status affects added to it. Due to the number of bullets that can hit a target, it is almost certain that poison, shock, or fire will be used on fish when they are shot with this gun.
Tennis Racket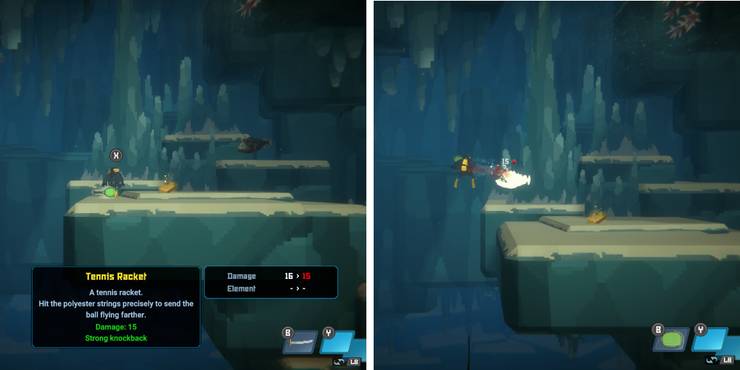 This melee tool shows that funny and strong don't have to be opposites. The Tennis Racket is an extremely rare weapon that can be found in Weapon Crates. It does 15 damage by itself, which is pretty strong.
This tool is one of a kind because it can push back. And not just a little bit of pushback. If you hit a fish with the Racket, it will fly back almost three metres. This is a great tool for making space and getting away from enemies you don't want to deal with.
Sticky Bomb Gun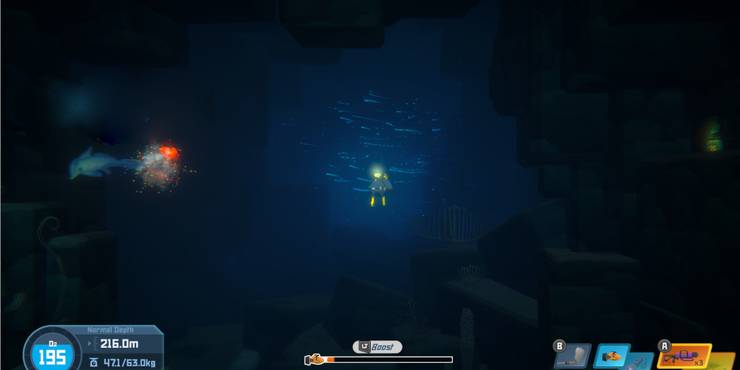 Experimental. Gooey. Explosions. All the things we want in a fishing game set underwater…. Well, we didn't know we wanted it, but the coders knew us better than we did. All three of these words can be used to describe the last thing on this list.
For a good reason, the Sticky Bomb Gun is the rarest drop in Slope Game. It combines the Sniper Rifle and the Grenade Launcher into one gun. It can fire straight-line charges at targets that stick to them and explode after a short delay, doing a lot of harm. If you find this gun, you can expect to eat a lot of shark-based dishes that night.